Stockpile Dust Suppression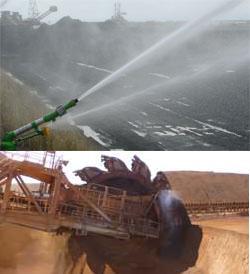 Stockpile Dust Suppression
Product Description
Stockpile dust suppression is simply a case of stabilizing the surface of the material. This is usually done with regular watering. Oasis has a range of long throw, high angle sprinklers which are suitable for stockpile dust suppression. We can also provide the full solution including sprinklers, valves and control system.
In cases where either the material cant get wet or the action of adding or removing material generates an unacceptable amount of dust then Fog Canon is the recommended solution.
When using either high volume sprinklers or Fog Cannons the addition of a polymer based crusting agent can dramatically reduce the frequency of application and also improve the dust suppression performance in high wind conditions.