RAIN GUN 2.5 BSP Female Connection (43o Angle) PART FULL CIRCLE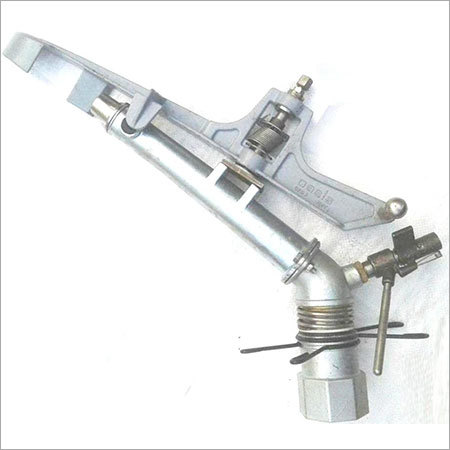 RAIN GUN 2.5 BSP Female Connection (43o Angle) PART FULL CIRCLE
Product Description
2.5 Rain Gun
Features:

Trajectory Angle is 40
Aluminium Alloy Casting Body
Swing Arm made from Gun Metal
Tube Bearing System is made from Gun Metal or Brass
Nylon Nozzle
Standard Size of Nozzle: 22mm
Also available in 24/26/28mm Nozzle size
Connection size is 2.5" BSP Male
Also acquirable in 2.5 size flanged connection
Part/Full Circle Operation
Suited for spraying water on heap, max height 18 meters
Application Areas:

Dust Suppression in Coal Yards, Mining Operations, Railway Siding, Haulage Road & Ash Pond.
Rock Quarries, Building Demolition, Steel & Slag Facilities, Construction Sites, and Ports.
Re-cycling Plants and Transfer stations etc.
Technical Specification
Nozzle Diameter (mm)

Pressure rating (kg/cm2)

Jet length (meter)

Discharge (LPM)

Apogee of stream water (meter)

Distance at the soil from rain gun to Apogee (Meter )




22

3

34

522

11

22

4

38

604

13

25

5

41

676

15

28

6

44

741

17

30




24

3

35

620

12

23

4

40

720

13.5

27

5

43

805

15.5

30

6

46

880

17

32




26

3

37

730

12

25

4

42

845

14

28

5

45

945

16

30

6

48

1035

17.5

33




28

3

38

845

13

26

4

44

980

15

29

5

47

1090

16.5

31

6

50

1200

18

33