Dry Fog Canon System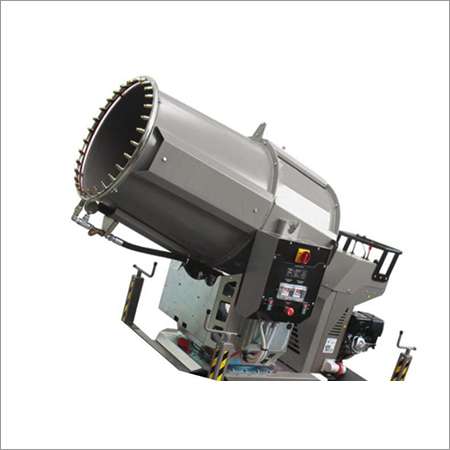 Dry Fog Canon System
Product Description
Dry Fog Canon System
Motivation to serve the Industry in a improved way :

Save the Environment is the content of now-a-days. As we are the part of this industry, we are also concerned to give protection to the environment. Our main responsibility is to serve the industry with something modish & new. It is from this need, we initiated the production of Fog Cannon Systems, which are highly productive in terms of their operational effectiveness & economical prospects.

Necessity :

To lessen the hazard of Physical Discomfort or Occupational Respiratory Diseases and delivering increased efficiency in work-force.
To decrease wear & tear of all equipments on which fine dust can originate a "grinding" effect.
To make reduction in abrasion rates, which enable lowered fecundity as well as lessened operating costs.
To boost visibility and decrease chances of accidents.
To increase team spirit among workers so that they can contribute towards productivity.
To preclude unpleasant and unwanted smells.
Who can be be benefited ?
Steel & Slag Plant
Re-cycling & Scrap
Mining & Quarrying
Coal Handling / Washaries
Cement Plant
Waste Transfer
Wood Processing
Ports & Shipping
Construction
Thermal Power Plants
Demolition
Crushing Units
Application Areas :
Conveyor / Transfer Points
Rail-wagon loading/unloading
Screens
Explosion Hazard areas
Ash silo discharge chute
Wagon Tipplers
Hopper
Waste Treatment facilities for Odor control
Ship Loading / Unloading
Reclaiming from Stockpiles, dumping
Features of OASIS Fog Cannon :
Have robust structures, which enable efficient operation. So configured, to take care of the whirl-wind so that micro driblets can travel more.
All models are supplied with Glass-reinforced Polymer Filters of 120mesh that helps in obviating the chance of clogging of nozzles.
All models have automated rotation of up to 330.
Provided with adaptable elevation angle from 0 to +45 or -45.
Water consumption differs from 16 LPM. up to 56 LPM based on different models.
User friendly products with low capital, increased functional operation & fixture cost as compared to some other conventional systems.
Fabricated with non-ferrous materials, these are proffered with the facility of selected nozzles, which render effective control.
Have wide area coverage, which can be utilized as the mobile as well as stationery units.
Other Features :
Water addition to this process is as low as 0.1% of the weight of the material being handled
Highly efficient, dust suppression is up to 95% of airborne dust particle
Effectively takes care of fugitive dust emission (reduced air pollution).
Simple installation in all productive & operating plants.
None major plant modifications are needed for the installation of the system.
Thee can be utilized in open spaces as well as tight enclosures.
Insure zero lump formation on conveyors that can give birth to damage.
Suitable for the fire prevention, cooling coal internal prevention.
Power saving products, rendered with dust extraction systems that is eradicable as well.
Save expensive equipment & machinery from impairment from dust
Insure lower labour costs.
Capable to be installed at at underground coal mines as well as other gaseous applications.